Kelsi Davies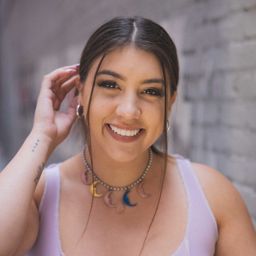 Kelsi Davies is quickly establishing herself as a multi-talented quadruple threat in the entertainment industry. The social media influencer, singer, dancer, and actress first gained notoriety with her YouTube channel which showcased her love for the paranormal. The highly successful channel, which has amassed over 1 million subscribers, led her to expand her creative endeavors to TikTok. Her entertaining and insightful videos, which often feature her haunted doll Lola, have earned her a devoted fan base of over 5 million followers and over 144 million likes on the platform to date. When she's not busy creating social media content, Davies loves to sing. She has showcased her talent with the singles "Santa Honey," "Heartbeats," "Done," and "Darker." All of the songs were written and produced by London-based Comanavago and are available to stream now on all major platforms. Davies is also a psychic medium who discovered that an ability to communicate with spirits on the other side runs deep within her family. She is committed to using her gifts for good by helping people connect with their deceased loved ones. You can follow her on TikTok, Instagram, Twitter, and YouTube @kelsiidaviess.
Community Track
Thrills & Chills
Duration: 1 hour
Location: Spotlight Stage
Thursday, June 22
2:30 pm - 3:30 pm
Featuring: Lauren Ashley Beck, CelinaSpookyBoo, Peet Montzingo and more
If you love hearing about things that go bump in the night, you're not alone! Join these experts in morbid curiosity to discuss spooky, supernatural, and true crime content. Take a deep dive into what inspires these masters of macabre to cover specific stories, and how they keep their fans hooked on the genre.
Participants
---
Community Track
Shattering the Digital Glass Ceiling
Duration: 1 hour
Location: Discover Stage Presented by Wondershare
Thursday, June 22
1:00 pm - 2:00 pm
Featuring: Victoria Browne, Tatyana Joseph, Lala Sadii and more
Join some of digital content's leading ladies as they reflect on what it's been like to be a woman online over the past year. Hear about the ups and downs, and the many ways these creators feel their content speaks to, encourages, inspires, and unites other women!
Participants
---