PENG PENG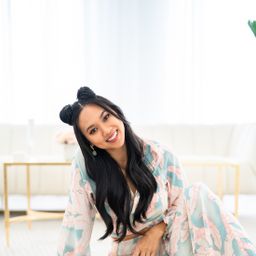 PENG PENG is a content creator, actress, artist, and host who is making a name for herself after leaving the gymnastics world. She's best known as the 2012 honorary Canadian Olympic team captain and 2018 NCAA National Champion, in which she scored two perfect 10s to help UCLA win the title. She made her debut in acting on the Netflix series My Perfect Landing as well as was seen on the Nickelodeon series WARPED as Princess DerpyDerp. PENG PENG has had many hurdles in life and has a strong passion to inspire others to enjoy each moment every day.
Community Track
I Did THAT!
Duration: 1 hour
Location: Amplify Stage
Friday, June 23
1:00 pm - 2:00 pm
Featuring: PENG PENG, Zach and Pat Valentine (Valentine Brothers), Alicia Mccarvell and more
These creators have accomplished so much, but that doesn't mean that they didn't encounter some haters along the way. This inspiring group of creators will be discussing how they turned moments where people tried to bring them down, into opportunities that led to new heights
Participants
---
Community Track
Night of Impact
Duration: 1 hour 30 minutes
Location: Arena
Thursday, June 22
6:30 pm - 8:00 pm
Featuring: PENG PENG, Alicia Mccarvell, Angry Reactions and more
What we create and how we create matters, impacting everything around us in visible and invisible ways. Performances will showcase the ways creators are mindful participants in the cultural ecosystem. Come together for a collective group hug with your favorite creators to celebrate community, invention, and love for ourselves, our communities, and planet Earth.
Participants
---
Community Track
Health Is Wealth!
Duration: 1 hour
Location: Creative Lab Stage
Friday, June 23
2:30 pm - 3:30 pm
Featuring: Nicole Laeno, PENG PENG, Studio Jibby and more
From dancing, to basketball, to extreme fitness — these creators inspire us to get up and move! Learn more about how they found their passion and what motivates them to share it with the world.
Participants
---