Notorious Cree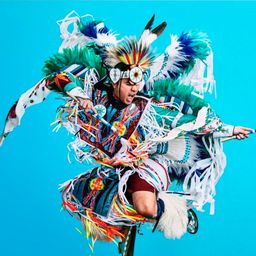 James Jones is a Nêhiyaw (Cree) Activist, performer, and speaker from Tall Cree First Nation in traditional Treaty 8 Territory in northern Alberta. Known as Notorious Cree across Instagram and TikTok, James has an engaging community of over 4M+ people globally. James uses his platforms to educate his following and spread awareness on the issues impacting Indigenous communities across the globe. As a traditional hoop and powwow dancer, performance artist, youth workshop facilitator, and public speaker, James advocates to inspire future generations by reclaiming his culture and encouraging others to do the same.
Community Track
The Responsibility of Representing a Community
Duration: 1 hour
Location: Amplify Stage
Saturday, June 24
5:30 pm - 6:30 pm
Featuring: Drew Afualo, naomiheartsxo, KeemoKazi and more
Due to their substantial following, creators often take on the responsibility of being representatives of their communities. Fans see pieces of themselves in the creators they admire, and creators recognize this as an opportunity to build trust and give a voice to their audience. Listen in as they discuss the implications of being in this position, and how they navigate their role in leadership.
Participants
---
Community Track
Night of Impact
Duration: 1 hour 30 minutes
Location: Arena
Thursday, June 22
6:30 pm - 8:00 pm
Featuring: PENG PENG, Alicia Mccarvell, Angry Reactions and more
What we create and how we create matters, impacting everything around us in visible and invisible ways. Performances will showcase the ways creators are mindful participants in the cultural ecosystem. Come together for a collective group hug with your favorite creators to celebrate community, invention, and love for ourselves, our communities, and planet Earth.
Participants
---