Chloe Bean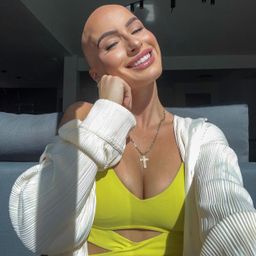 Chloe is beauty/lifestyle content creator, entrepreneur, and aspiring model based in Scottsdale, AZ. She was diagnosed with Alopecia at the age of 8 and began her social media career by bringing awareness to the disorder. She has since become a beacon of light for other alopecian individuals worldwide. In 2021 she launched her baldiebean.com where she sells beauty products that cater to those suffering from hair loss, such as: eyebrow tattoos, lashes, and wigs.
Community Track
Awareness, Inclusivity, & Accessibility
Duration: 1 hour
Location: Amplify Stage
Thursday, June 22
1:00 pm - 2:00 pm
Featuring: Zach and Pat Valentine (Valentine Brothers), Crutches and Spice, Chrissy Marshall and more
One of the many benefits of social media is the ability to promote awareness and spark conversation like never before. These creators are using their platforms to shed light on disabilities and promote positive representation. In this session, they're here to speak about how their disability affects their approach to content creation and how being vocal about their experience has driven their success.
Participants
---
Community Track
Authenticity or TMI?
Duration: 1 hour
Location: Creative Lab Stage
Thursday, June 22
4:00 pm - 5:00 pm
Featuring: Ashley Ippolito, Allison Kuch, Jeenie Weenie and more
Audiences online truly feel like they know their favorite creators, but how much is too much to share? These creator powerhouses discuss what it's like to lead a highly-visible life, and what boundaries they set for themselves when it comes to talking about personal issues — if any.
Participants
---