Kat Blaque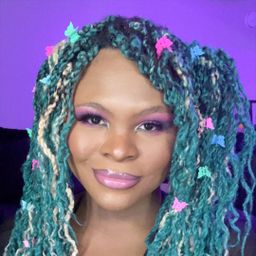 Kat Blaque is a YouTube veteran who has been uploading content to YouTube from its inception in 2005. Over the years, she's uploaded content on a large array of topics from her experience as an artist, to the complexities of her experience as a polyamorous, sex positive, black transgender woman. Currently she focuses on continuing to produce content to that end while focusing on video essays about queer media.
Community Track
The Rest of the Story
Duration: 1 hour
Location: Amplify Stage
Friday, June 23
2:30 pm - 3:30 pm
Featuring: Kat Blaque, Angry Reactions, Keith Lee and more
News over the past three years has given the public the hard truth of what it's like to exist while being Black. Plus, social media is further pulling back the curtain, providing more visibility than ever into these social issues. Can this increase in public awareness become a catalyst for change? These creators are coming together to have an important conversation about how this media coverage has affected the content they make — and how non-Black allies, whether they are fans or creators, can be an effective force of change in the real world.
Participants
---
Community Track
Skin Just Like Pearls
Duration: 1 hour
Location: Spotlight Stage
Saturday, June 24
4:00 pm - 5:00 pm
Featuring: Lauren Ashley Beck, Beauty2thestreetz, Tatyana Joseph and more
Just like Beyoncé, we wouldn't trade these amazing creators for anybody else. In this inspirational hour, these creators will discuss what it's like being a Black woman online, the message each creator is hoping to send to their audience, and what it means to be role models to young Black youth everywhere.
Participants
---