Sarah Lugor (shreksdumpster)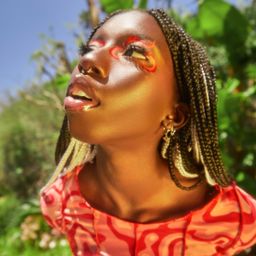 Sarah Lugor (or even shrek's dumpster to some), has never been a fan of doing what the world expects her to do. Growing up as a first generation South Sudanese girl in Las Vegas, she's always naturally stuck out in a crowd, pulled between her American and East African identity. "I am too Sudanese to be American and too American to be Sudanese" she explains. The teenage years were no walk in the park for Sarah. She sites her experiences with being the child of an immigrant and even a brief stint of homeless as what caused her to grow up early. After a particularly challenging period, she turned to the internet for a complete creative outlet and full emotional support – making comedic and relatable videos from the comfort of her humble bedroom. Little did she know that her yearning for connectivity with herself and with others would earn her a cult-like following of 3.5 million "besties", land her press features in Vogue and Huffington Post, make her an LGBTQI+ TikTok Trailblazer, and name her a PAPER People. To date, she has been the face of the Starface Black Star launch (which will be in Target & CVS across the country come 2023) and collaborated with brands such as Calvin Klein, FARFETCH Beauty, Valentino, Etro, Live Nation, Amazon, Converse, Cerave, Neutrogena, Instagram, Target, AT&T, TikTok, Twitter, and more. Currently pursuing a solo artist project, she makes music for the collective individual. Those who can relate to you, yet do not want to be you. Those who are inspired by the world around them, yet make their own decisions. Those who are respectful of their cultural history, yet challenge the idea of who they are expected to be. Her genre is undefined, dipping her toe in everything from the atmospherics and peculiarity of Mitski and Billie Eilish to the poetic lyricism and ambiguous form of Tyler the Creator and WILLOW. She's not trying to fit in a box, or as she so plainly states "I just make what feels good".
Community Track
Inspiring the Next Generation of Black Creators
Duration: 1 hour
Location: Discover Stage Presented by Wondershare
Thursday, June 22
11:30 am - 12:30 pm
Featuring: Lauren Ashley Beck, Charlie Curtis-Beard, MissDarcei and more
Just like the creators who paved the way for them, these creators aim to inspire and facilitate inclusion in the industry for their successors. In this discussion, panelists will talk about who influenced them the most and will highlight the ways they hope to energize and educate those hoping to get into the creative space.
Participants
---
Community Track
The Art of Finding the Funny
Duration: 1 hour
Location: Discover Stage Presented by Wondershare
Friday, June 23
4:00 pm - 5:00 pm
Featuring: Brother of color, KeemoKazi, Kallmekris and more
With humor, satire, silliness, and sometimes even social commentary, comedy creators bring a much-needed dose of laughter to an often too-serious world. During this panel, you'll have the opportunity to learn about their creative process and how they put their comedic spin on everyday, relatable topics.
Participants
---