Montoya Twinz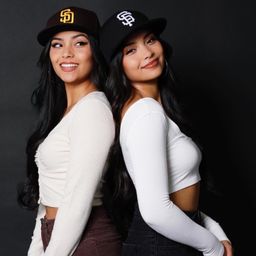 Mya and Myka Montoya are 22-year-old identical twin sisters. Born in Clovis, NM, they relocated to Amarillo, TX in 2009. In 2015 the duo started posting on musical.ly and have since expanded their creative personalities to TikTok, Instagram, YouTube, Facebook, and Twitch.
Community Track
All in the Family
Duration: 1 hour
Location: Creative Lab Stage
Thursday, June 22
11:30 am - 12:30 pm
Featuring: Peet Montzingo, Hudson Matter, Jordan Matter and more
Find out what it's like making content with loved ones during this family-focused session. What are the pros and cons of having your kin as your coworkers? How does this dynamic shape these creators' content? Learn the answers to these questions and more!
Participants
---
Community Track
Night of Impact
Duration: 1 hour 30 minutes
Location: Arena
Thursday, June 22
6:30 pm - 8:00 pm
Featuring: PENG PENG, Alicia Mccarvell, Zach and Pat Valentine (Valentine Brothers) and more
What we create and how we create matters, impacting everything around us in visible and invisible ways. Performances will showcase the ways creators are mindful participants in the cultural ecosystem. Come together for a collective group hug with your favorite creators to celebrate community, invention, and love for ourselves, our communities, and planet Earth.
Participants
---