Lewberger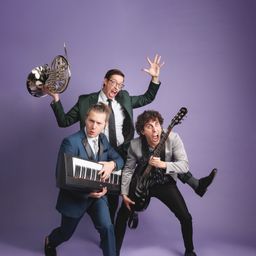 Alex Lewis is a member of the hit comedy band Lewberger. With Lewberger he's performed on America's Got Talent, NBC's Bring The Funny, and all over America in theaters, clubs, and phone screens alike. As an actor you may recognize him from the Lincoln Lawyer, Dexter, Valley Girl and so much more.
Hughie Stone Fish is a songwriter, performer, non-profit co-founder, and entrepreneur based out of Los Angeles. Hughie won the Emmy for Outstanding Original Song for his work writing and rapping on a song with Jason Alexander about the history of antisemitism through cartoons. The Arts Project Syracuse is Hughie's 501c3 he co-founded with his brother and another Syracusean, bringing arts education to under-resourced youth in their hometown of Syracuse, New York. Hughie's comedy band Lewberger performed as finalists on the hit NBC comedy competition show Bring the Funny, got a standing ovation on America's Got Talent, have gone on national tours, and are putting up their musical Wizard of Friendship off-Broadway in March 2023. Sunlight & Stars, Hughie's debut solo album, will be dropping in 2023.
Keith Habersberger is a member of comedy music group Lewberger and one of the Try Guys. He is best known for eating a lot of food in front of a camera.
Community Track
VidCon After Dark: Comedy After Dark
Duration: 2 hours
Location: Spotlight Stage
Thursday, June 22
7:00 pm - 9:00 pm
Featuring: Lewberger, Sarah Schauer, spencewuah and more
Musical comedy, stand-up comedy, and commentary comedy! Come see your favorite creators in way you've never seen them at VidCon before. Hosted by TikTok sensation and comedian Hassan Khadair.

This show is recommended for an 18+ audience.
Participants
---
Community Track
Lewberger LIVE!
Duration: 30 minutes
Location: Festival Stage
Saturday, June 24
10:30 am - 11:00 am
Featuring: Lewberger, Keith Habersberger (The Try Guys, Lewberger)
Join Lewberger for a midday show! We hope Keith knows all the words!
Participants
---
Community Track
Night of Awesome
Duration: 2 hours
Location: Arena
Saturday, June 24
5:30 pm - 7:30 pm
Featuring: Lauren Ashley Beck, Michelle Khare, Lewberger and more
The night of all the things you love about VidCon. Witness the weird, the wonderful, and the just plain outrageous in this night full of laughs, music, and big reveals with your favorite creators. Join us at the VidCon Arena Stage Saturday evening for a grand finale of VidCon 2023 you won't want to miss!
Participants
---