Chrissy Marshall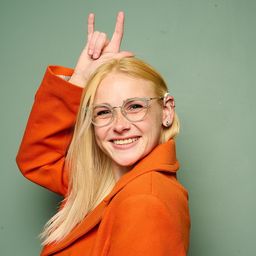 Chrissy Marshall is an LA-based writer and director who prioritizes community, innovation, and equity in her work and is tenaciously creative. She also advocates for ASL, accessibility, and disability awareness. Also, she happens to be deaf.
Community Track
Awareness, Inclusivity, & Accessibility
Duration: 1 hour
Location: Amplify Stage
Thursday, June 22
1:00 pm - 2:00 pm
Featuring: Zach and Pat Valentine (Valentine Brothers), Imani Barbarin (Crutches And Spice), Chrissy Marshall and more
One of the many benefits of social media is the ability to promote awareness and spark conversation like never before. These creators are using their platforms to shed light on disabilities and promote positive representation. In this session, they're here to speak about how their disability affects their approach to content creation and how being vocal about their experience has driven their success.
Participants
---
Community Track
Balancing Act
Duration: 1 hour
Location: Creative Lab Stage
Saturday, June 24
10:00 am - 11:00 am
Featuring: Sierra Schultzzie, Leo González, Chrissy Marshall and more
Like any other full-time job, it's important to cultivate a sense of work-life balance as a content creator. But it can be difficult to find this balance when your work is not confined within office walls or specific hours. In this panel, creators will talk through the importance of developing healthy habits focused on preventing burnout and maintaining an overall sense of well being.
Participants
---