Kendahl Landreth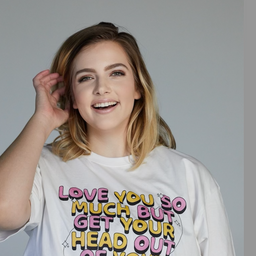 Kendahl Landreth is a character performer, actor, and comedian based in Los Angeles, CA. Before society pressured her into joining TikTok she studied and performed comedy with The Upright Citizens Brigade and received a degree in Acting for TV and Film from the New York Conservatory for Dramatic Arts. During quarantine she wrote and starred in the short film Natural Disaster and gained 1.8 Million followers on TikTok. She's best known for her hilarious reality TV reenactments and southern characters. She recently launched a podcast called BCC Club with fellow comedian Sarah Schaur. She identifies as a lesbian and she spends time volunteering for several LA area shelters including the Hollywood Food Coalition. Kendahl has continued her sketch training with Groundlings and is focused on her acting career.

Community Track
Live Podcast: The BCC Club
Duration: 1 hour
Location: The On Air Stage
Thursday, June 22
4:00 pm - 5:00 pm
Featuring: Sarah Schauer, Kendahl Landreth
Block off your calendar or put the meeting on mute because we're bringing you the BCC Club live from VidCon! Join hosts Sarah Schauer and Kendahl Landreth on the thread as we take a deep dive into the internet!
Participants
---
Community Track
Q & Slay
Duration: 1 hour
Location: Creative Lab Stage
Friday, June 23
10:00 am - 11:00 am
Featuring: Kendahl Landreth, Nikki Garza, Sarah Schauer and more
Join these colorful creators for a fun hour of questions and conversation! Learn more about their lives on and off camera, and listen to them reminisce about all the joy that being out and queer has brought them.
Participants
---
Community Track
The Art of Finding the Funny
Duration: 1 hour
Location: Discover Stage Presented by Wondershare
Friday, June 23
4:00 pm - 5:00 pm
Featuring: Brother of color, KeemoKazi, Kallmekris and more
With humor, satire, silliness, and sometimes even social commentary, comedy creators bring a much-needed dose of laughter to an often too-serious world. During this panel, you'll have the opportunity to learn about their creative process and how they put their comedic spin on everyday, relatable topics.
Participants
---