Tatyana Joseph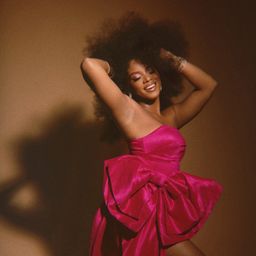 Tatyana Joseph is a 21-year-old actress, model, and content creator. She is best known for her TikTok videos on beauty, family, and comedy. Whether she shares herself through her skills in haircare (and especially for young Black girls), her budding relationship with her boyfriend, or her love of makeup and fashion, she bonds with her fans in an open and giving manner. She continues to expand her career as an actress in LA.
Community Track
Shattering the Digital Glass Ceiling
Duration: 1 hour
Location: Discover Stage Presented by Wondershare
Thursday, June 22
1:00 pm - 2:00 pm
Featuring: Victoria Browne, Tatyana Joseph, Lala Sadii and more
Join some of digital content's leading ladies as they reflect on what it's been like to be a woman online over the past year. Hear about the ups and downs, and the many ways these creators feel their content speaks to, encourages, inspires, and unites other women!
Participants
---
Community Track
The Rest of the Story
Duration: 1 hour
Location: Amplify Stage
Friday, June 23
2:30 pm - 3:30 pm
Featuring: Kat Blaque, AngryReactions, Keith Lee and more
News over the past three years has given the public the hard truth of what it's like to exist while being Black. Plus, social media is further pulling back the curtain, providing more visibility than ever into these social issues. Can this increase in public awareness become a catalyst for change? These creators are coming together to have an important conversation about how this media coverage has affected the content they make — and how non-Black allies, whether they are fans or creators, can be an effective force of change in the real world.
Participants
---
Community Track
Skin Just Like Pearls
Duration: 1 hour
Location: Spotlight Stage
Saturday, June 24
4:00 pm - 5:00 pm
Featuring: Lauren Ashley Beck, Beauty2thestreetz, Tatyana Joseph and more
Just like Beyoncé, we wouldn't trade these amazing creators for anybody else. In this inspirational hour, these creators will discuss what it's like being a Black woman online, the message each creator is hoping to send to their audience, and what it means to be role models to young Black youth everywhere.
Participants
---