OldGays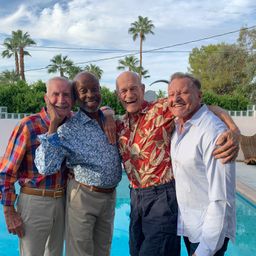 Bill is 79 and is the second oldest of the group. He is from Covina, California and was born into a restaurant family. He was a fashion model in his younger years, worked in interior design for many years, and most recently worked for a telecommunications company in the 90s. He lives down the hill from the rest of the guys and enjoys fixing up his new home in his spare time, as well as reading. Bill is the "Charlotte" (Sex and the City) or the Betty White (Golden Girls) of the group because he portrays this super innocent persona, but also has this little devil in his head nudging him to live a little. We will often try to get him to do something outside of his comfort zone (drag, getting in his underwear) and he'll push back at first, but he always comes around. Bill is probably the most dedicated to the Old Gays because he has described it as the most exciting thing that has ever happened to him.
Jessay is 69 and is from Greeneville,Tennessee. He is the only living member of his immediate family, and has found a new family with The Old Gays. While the others live lowkey lives, Jessay has a very active social life (brunch with friends on the weekends, travel to Los Angeles regularly to sing). He's also said in interviews "None of the Golden Girls, Friends, or Sex in the City ever related to him because none of them looked like him." Jessay has a somewhat conservative religious background that has evolved more than any of the other guys through the Old Gays — he is now more comfortable being open and sharing things about himself. Jessay helps in keeping the other Old Gays young because he uses TikTok and and is more up to speed with what Robert has coined "youth talk". He also has a performance background as a singer and takes the lead when the others need to learn choreography. Jessay is all about love — he loves love and is a total sweetheart.
Mick is the youngest of the Old Gays at age 67. After receiving an MFA (UC Irvine) he worked in Los Angeles (SAG/AFTRA) for many years in broadcast media and stage. After receiving his second graduate degree (MBA Pepperdine) he was an independent grant writer. Mick is the "Samantha" of the group (Sex and the City); a title he owns because he is self-proclaimed raunchy and naughty. He's super sex-positive and will talk openly about almost any topic, much to the shyness/embarrassment of the others, mostly Bill and Jessay. Highly-intelligent Mick can carry a conversation about almost anything. He has a background as a bodybuilder and works out daily; and is arguably the fittest of the group. Mick struggles with an autoimmune condition that adversely affects the feeling in his arms/legs and offsets his balance. He almost died a few years ago but has fought hard to come back to life. Mostly, he is feeling better thanks in part to the Old Gays.
Robert is 80 and was born in Arkansas during WWII. His background includes being a City Planner, as well as working in architecture and real estate. Robert moved to Cathedral City in the mid 90s with an HIV diagnosis and has said that the reason he relocated there was to live out the remainder of his life and die. Fortunately the desert was a natural healing place for him that helped him survive and even thrive. Robert is a well-known local artist/sculptor; people in the neighborhood regularly drive by his house and look to see what piece he's displaying in the front window. Robert speaks with a slow, Southern drawl and he's the ringleader of the group or the Carrie (Sex and the City). He's known Bill for over 30 years, he's rented a room in his home to Mick for the past 10 years, and he lives across the street from Jessay. He is known for his calm, go-with-the-flow attitude and can add comedy to any conversation/situation, whether intentional or not. The Old Gays are four older gay gentlemen trying to navigate their golden years in a millennial + Gen Z world. They have been friends for years and all live together on the same street in Cathedral City, CA. They have accumulated over 11 million followers on social media and over 2 billion views across the internet. They were created by John Bates, are produced/managed by Ryan Yezak, and are represented by Rebecca Rusheen & Adam Loria at A3.
Community Track
Festival Dance Party: Let's Go, Girlypops!
Duration: 2 hours 30 minutes
Location: Festival Stage
Thursday, June 22
7:00 pm - 9:30 pm
Featuring: Chrissy Chlapecka, Bryce Xavier, Carter Kench and more
OMG, here she comes! Release your inner fangirl at VidCon's 90's themed dance party. Grrrl, you better work it in your crop tops, denim, and platform sneakers. Now get your fanny packs on the dance floor.
Participants
---
Community Track
Bringing Joy to the World Wide Web
Duration: 1 hour
Location: Amplify Stage
Friday, June 23
10:00 am - 11:00 am
Featuring: OldGays, Cooking with Lynja, Mamatot and more
Whether dancing, cooking, or just sharing a personal anecdote, these creators are spreading joy across the internet every day and uniting fans from all corners of the globe. Come listen to them discuss what fills them with happiness, and how they work to integrate that feeling into their content.
Participants
---