THE BEVERLY HALLS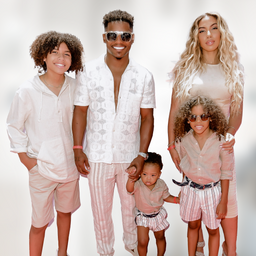 Brooke Ashley Hall is a wife and mother of three boys who enjoys sharing her lifestyle through vlog style content. She loves taking care of her skin, sharing beauty tips and viral hacks with her audience. She loves music and has even created some of her own with her family. She is passionate about her family's charity efforts for pediatric heart diseases/research.
Marco Hall is a husband, father, and professional athlete. He enjoys spending time with his family, having fun and making them laugh. He also enjoys staying fit and leading a healthy lifestyle. He loves a clean house and supports children's heart research with his family.
Braylon Hall is a 13-year-old artist who loves to paint unique pieces of art. He is a heart warrior and survivor and has a huge passion for helping other children and families struggling with genetic heart conditions! He is very intelligent and a great big brother, and puts a smile on everyone's face he meets! He loves music and has created his own single on his family's Christmas album.
Mar'Cannon Hall is a 6-year-old superstar. He loves to dance and he is the life of every party and fears no social engagement. He is talented and the most amazing and kind hearted friend. He enjoys making music and hanging out with his brothers playing video games in his game room!
Community Track
Night of Impact
Duration: 1 hour 30 minutes
Location: Arena
Thursday, June 22
6:30 pm - 8:00 pm
Featuring: PENG PENG, Alicia Mccarvell, Zach and Pat Valentine (Valentine Brothers) and more
What we create and how we create matters, impacting everything around us in visible and invisible ways. Performances will showcase the ways creators are mindful participants in the cultural ecosystem. Come together for a collective group hug with your favorite creators to celebrate community, invention, and love for ourselves, our communities, and planet Earth.
Participants
---