XOMG POP!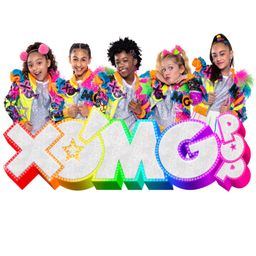 XOMG POP! is an all-girl pop group created by Jess and JoJo Siwa that consists of 6 members. The group was created on the NBC / Peacock reality TV show, "Siwa's Dance Pop Revolution." XOMG POP! has already gained traction along with their debut song, "Candy Hearts," reaching the top 20 on the iTunes Charts, with recent TikTok content reaching as high as 120 million views. The group has a live-action film and animated shorts in development, a themed Royal Caribbean Cruise sailing in November 2023, and hundreds of licensed XOMG POP! products hitting retail stores nationwide this Fall. The group recently served as the opening act for the first-ever Children's & Family Emmy Awards, hosted by JoJo Siwa. The group recently made their first public appearance at the mall of America in Minneapolis, Minnesota attracting over 3000 fans from across the USA! Their debut album, "Party Like a Popstar," reached #1 on children's music charts on Itunes. The album includes 10 new songs with 2 written & produced by Grammy Award Winner, Megan Trainor and 3 songs written by Emmy nominated JoJo Siwa.
Community Track
Night of Awesome
Duration: 2 hours
Location: Arena
Saturday, June 24
5:30 pm - 7:30 pm
Featuring: Lauren Ashley Beck, Michelle Khare, Lewberger and more
The night of all the things you love about VidCon. Witness the weird, the wonderful, and the just plain outrageous in this night full of laughs, music, and big reveals with your favorite creators. Join us at the VidCon Arena Stage Saturday evening for a grand finale of VidCon 2023 you won't want to miss!
Participants
---