Safiya Nygaard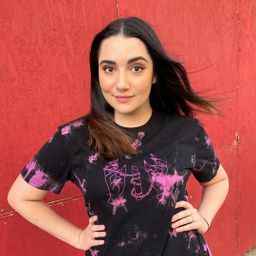 Safiya Nygaard has amassed over 9 millions subscribers on her YouTube channel, which covers all things beauty, style, and weirdness — with a dash of travel thrown in. From "Melting Every Lipstick From Sephora Together" to find the average "most marketable shade" at the store, to wearing some of the most bizarre fashion items you'll ever see (looking at you Platform Crocs), to exploring some of the most interesting travel locations from around the world (strike a Japanese Spa Theme Park and Korean Cheese Theme Park from the bucket list), Safiya's been exploring a variety of different topics on her channel for the better part of five years now. Recently, she's expanded into new projects including her weekly livestreams with her husband, Tyler, as well as a variety of other different short-form content series — both of which feature the same signature take on all the bizarre things you can encounter while scrolling on YouTube, Instagram, or TikTok. A graduate from Stanford University and originally from Hyde Park in Chicago, Safiya likes to take her inquisitive, questioning eye and sense of humor to explore, investigate, and cover all things that spark her (and hopefully other people's) interest on the internet.
Community Track
The Weird and Wonderful
Duration: 1 hour
Location: Spotlight Stage
Thursday, June 22
4:00 pm - 5:00 pm
Featuring: Tyler Williams, Safiya Nygaard, Evan and Katelyn and more
The internet's largest tube of lipstick. Underwater crafts. Clear potato chips. Bath bombs and more. From making a phone case out of beans to finding a century's worth of wedding dresses, these creators entertain with their outside-the-box DIY projects, explorations, and experiments. Get an inside look into how they develop their unique video ideas!
Participants
---
Creator Track
Creator to Creator - Safiya Nygaard and Tyler Williams with MatPat and Steph
Duration: 1 hour
Location: Room 204
Friday, June 23
11:30 am - 12:30 pm
Featuring: Safiya Nygaard, Tyler Williams, MatPat and Steph
These iconic duos are doing it all — from expanding their brands and businesses to consistently uploading entertaining and engaging content. Tune in as they discuss their paths to success, share their strategies, and reveal how they maintain their position at the top of the creator economy.
Participants
---