As always, our main priority is the safety and security of our guests. We've established the following measures to ensure that VidCon is a safe and fun place for everyone who attends. Please make sure you've read VidCon's Rules & Regulations before arriving.
CREDENTIALS
All VidCon attendees are required to wear their badges and RFID wristbands at all times. This is to verify that everyone attending — or within a particular access-controlled area — is authorized to be there. You will not be permitted into any VidCon event space without your credentials. Security is stationed throughout all indoor and outdoor areas of the event at the Baltimore Convention Center. Please be prepared to show your badge and wristband at all entrances and special access points or if requested by a VidCon security member.
METAL DETECTORS & BAG SEARCHES
Each VidCon entrance will include metal detectors and bag searches in addition to the standard RFID portals. In order to provide a smooth and safe experience while entering the event, please review our restricted items and bag types below and leave these items at home! If you arrive with a restricted item, you will be asked to return the item to your vehicle, hotel room, or home OR to dispose of it. VidCon will NOT have a place to store your restricted items and staff will not hold them for you. Accommodations will be available for those with disabilities and exceptions will be made for medical conditions. Please see a VidCon staff member if this applies to you.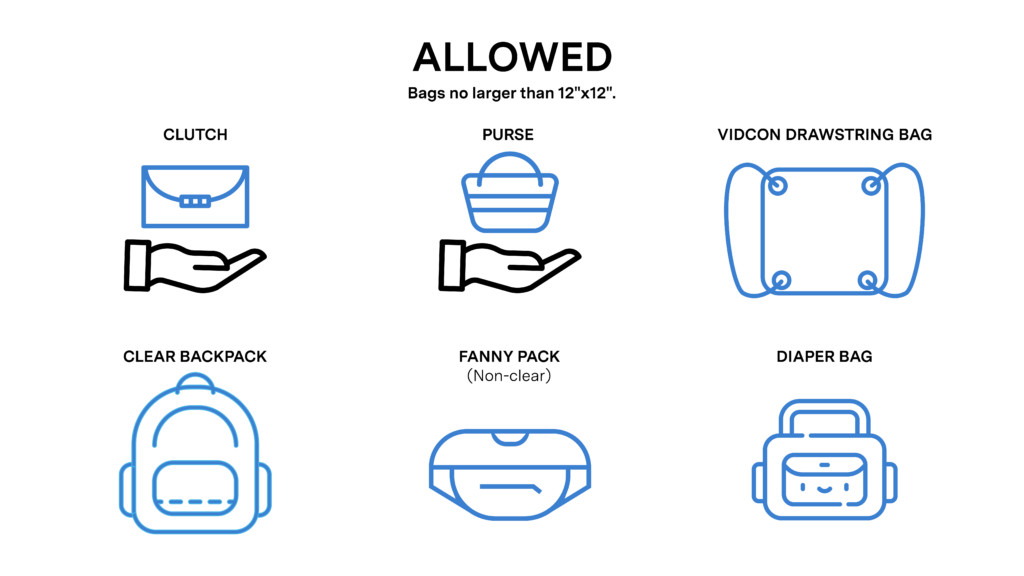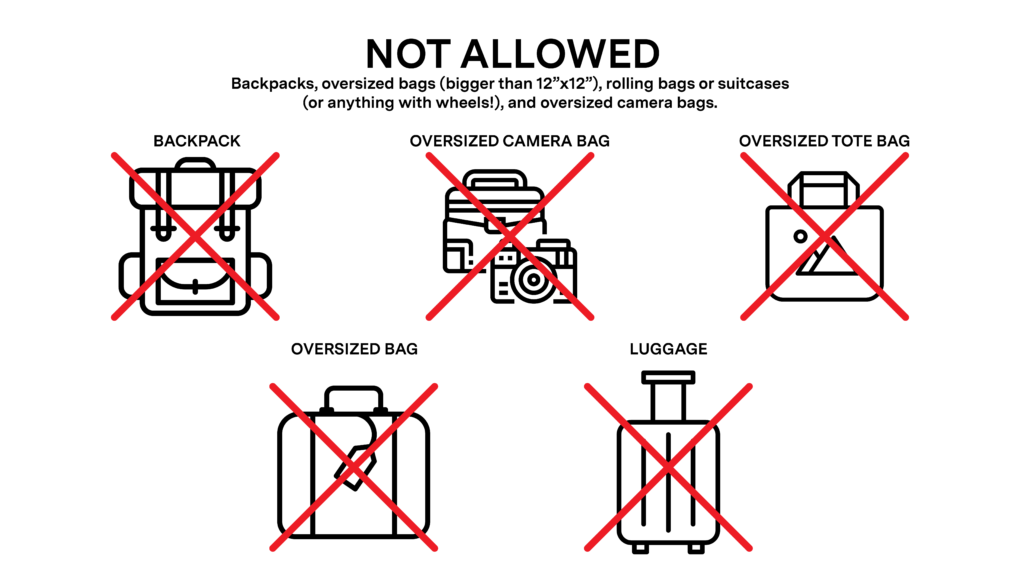 YOU CAN HELP MAKE THIS PROCESS EASY!
Leave restricted items at home.
Only bring bags that are 12″ x 12″ or smaller.
Remove items from your pockets that may set off the metal detectors like keys, wallets, and cell phones.
Have bags open and ready to be checked.
Have your RFID wristband ready to scan and your badge visible.
PROHIBITED ITEMS
No outside alcohol.
No weapons or items that can be mistaken as weapons.
No illegal substances.
No marijuana.
No drones.
No helium balloons.
No wheels; skateboards, hoverboards, roller skates, roller blades, Heelys (or other roller shoes), scooters, wagons, rolling bags, etc. are not allowed. (Wheelchairs, strollers, mobility scooters, and other necessary mobility aids are welcome.)
No pets. (Service animals are welcome.)
No handouts of flyers, stickers, cards, or any promotional item, unless given prior approval from VidCon. Business cards are permitted.
No large bags, backpacks, or purses. Personal bags may be no larger than approximately 12″ x 12″ and will be searched upon entry.
COSPLAY PROHIBITIONS
No masks or other headpieces that cover the entire face.
No large wands, staffs, or bats.
No weapons or items that can be mistaken as weapons.
No violent props or potentially harmful pieces of clothing.
Acceptable costume weapon props are limited to air-filled or soft plastic/foam weapons. (VidCon will not check/hold any items at the event.)
If at any time you feel you are in or witnessing an unsafe situation, alert a nearby security guard or a VidCon staff member.
SPECIAL NOTES ON MEET & GREETS
Gifts for Featured Creators must be unwrapped and visible, and are subject to search.
Food or drink items are not allowed unless they are factory-sealed.
Weapons and items that can be mistaken as weapons are expressly prohibited.